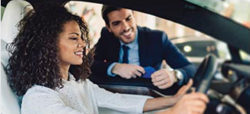 Buying a new vehicle can be fun and enjoyable if you do your homework. River Valley Credit Union wants to help make the process of buying a vehicle as hassle-free as possible. Here are a couple of tips to keep in mind while buying a new car!
Decide what vehicle is right for you. Narrow down your choices before you head to a dealership to give you an upper hand. There are several online resources that can help you find the best car for your needs.
Get pre-approved! Getting pre-approved with River Valley Credit Union can give you a huge advantage and reduce the stress of buying a car.
Beware of Add-Ons. A great deal on a vehicle can quickly disappear with expensive add-ons that put your vehicle over blue book value. RVCU can provide the same insurances at a lower cost.
Don't rush the test drive. If you're planning on owning a car for a while, it's important to give it a good test drive. You might notice something that could be a big problem in the future!
If you are buying a used car, look for a certified pre-owned car. The sticker price may be higher, but there are many advantages. Sites such as CarFax can also be helpful when buying a used car.
Don't finance through a dealership. Car salespeople don't just want to sell you a car, they want to finance it too. Car dealerships will charge significantly higher interest rates or add-on fees that might seem easier but will leave you paying more.
Already financed your car at a dealership and want to switch your loan to RVCU? We could help you save money! Refinance your loan and receive $100!*