Who can be a member of River Valley Credit Union?
Individuals who reside, are employed, attend school, or worship in Kent, Montcalm, or Ionia County, Michigan.
Any person over the age of 55 who receives a retirement annuity, pension, social security, or similar retirement payment from private or government sources and lives in, or belongs to a retirement organization located in Kent, Montcalm, or Ionia county.
Open A New Account!
Stop into any of our locations to open a new account or become a member online!
Want to help teach your child financial literacy? Open a youth savings account, and start them on the path to financial success!
---
Why a credit union?
Credit Unions are member-owned cooperatives, which means the decisions that affect your financial goals are made by members just like you, instead of stockholders.
Credit Unions offer better rates because they are not-for-profit and are member-centered.
Receive member-only savings through our partners.
Built with you in mind…
River Valley Credit Union offers a variety of accounts all built with you in mind. River Valley Credit Union has been serving the community for more than 50 years. We are dedicated to helping our members find the very best options for their financial success.
If you have any questions about becoming a member of RVCU or opening a new account, please feel free to contact us members@myrivervalleycu.org .
---
Looking for RVCU's Routing Number?
272476239
---
Online Services
River Valley Credit Union offers a variety of convenient and user-friendly online services. Whether you need to check your balance, pay a bill, or deposit a check on the go, we have you covered!
Looking to sign in to online banking?
The login for online banking is located at the top of the page. Click on the "Login" button to log in.

Or if you're using a mobile device, download our Mobile App. Our mobile app is the best way to access your account on the go!
If you are using our mobile website, click the "Login" button to log in.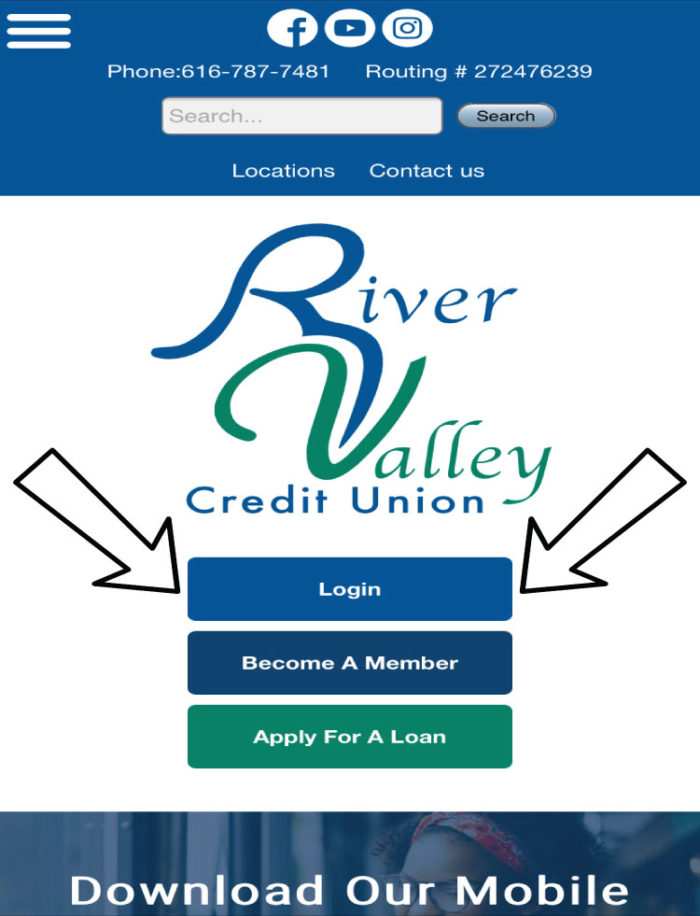 ---
View all online services.
---
Our mobile app gives you quick access to your accounts and allows you to transfer money, view your balances, open a savings account, deposit checks, and much more!
---
Deposit checks with your phone using EasyDeposit. If you can take a picture with your phone, you can deposit a check! Just point and click.
---
View 19 months of statements online with eStatements. This eco-friendly option also helps protect against identity theft and eliminates clutter. Sign up today when you log in to online banking!
---
Want to stay in touch with your finances? Want to be alerted when your account reaches a certain level? Sign up for eAlerts, and receive fully customizable text or email alerts on your account.
---
Looking for an easy way to simplify your life? It's Me 247 Bill Pay can help you do just that. With bill pay, you can receive and pay your bills online with the click of a mouse from your RVCU checking account via online banking.