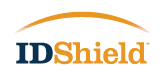 Protect you and your family's identities with IDShield.
---
Have you ever…
Worried about being a victim of identity theft
Been concerned about your child's identity
Lost your wallet
Worried about entering personal information on-line
Feared the security of your medical information
Been pursued by a collection agency
Identity theft is more common than you think
30 new identity theft victims per minute
Identity thieves are hacking and stealing data at a frightening rate—with 30 new victims of identity theft per minute.
Why should you protect your identity?
Identity theft affects millions of Americans each year. Victims of identity theft can face issues such as lost job opportunities, problems with securing a loan or harassment from debt collectors. You can get the experts on your side with an identity theft protection plan. Services include access to your credit report (or consumer credit disclosure), consultations, expert restoration, and more.
The IDShield Membership Includes:
Privacy Monitoring
Monitoring your name, SSN, date of birth, email address (up to 10), phone numbers (up to 10), driver license & passport numbers, and medical ID numbers (up to 10) provides you with a comprehensive identity protection service that leaves nothing to chance.
Security Monitoring
SSN, credit cards (up to 10), and bank account (up to 10) monitoring, sex offender search, financial activity alerts, and quarterly credit score tracking keep you secure from every angle. With the family plan, Minor Identity Protection is included and provides monitoring for up to 8 children under the age of 18.
Consultation
Your identity protection plan includes 24/7/365 live support for covered emergencies, unlimited counseling, identity alerts, data breach notifications, and lost wallet protection.
Full-Service Restoration
Complete identity recovery services by Kroll Licensed Private Investigators and our $5 million service guarantee ensure that if your identity is stolen, it will be restored to its pre-theft status.