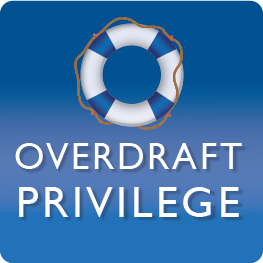 River Valley Credit Union's Overdraft Privilege gives you peace of mind when life happens. Instead of embarrassing bounced checks or inconvenient returned payments, which can result in high fees, for just $25, Overdraft Privilege allows these items to be paid.
Overdraft Privilege is a simple and convenient way to help ensure your everyday debit card transactions clear when you need them to be in the event your account balance runs low. Consider it a safety net or a last line of defense when all other options have been exhausted.
Your Overdraft Privilege Extended Coverage settings can be viewed, and updated, through online banking. Once you've logged in with your username and password, go to the "Info Center", "My Preferences" and select "Overdraft Services".
Resources
Tips on Balancing Your Checkbook
Your Responsibilities for Insufficient Funds & Overdrafts
Accounts will be charged the standard Overdraft fee of $25 for handling each overdraft created by check, ACH, Point-of-Sale, ATM withdrawal, in-person withdrawal, or other electronic items paid, and $25 for items returned.  An overdrawn balance must be repaid within 32 days.  We may not pay items under your overdraft privilege if you do not maintain your account in good standing by bringing your account to a positive balance within every thirty-two (32) day period for a minimum of 24 hours, if you default on any loan or other obligation to River Valley Credit Union or if your account is subject to any legal or administrative order or levy.